Army Restructuring Tool (ART) for Hearts of Iron 3
The ART is a powerful tool for players of Hearts of Iron 3 making the reorganization of the OOB and enforcing consistent naming of units much easier to achieve. The ART is compatible with HoI3 up to the "Their Finest Hour" expansion and most mods (please see the FAQ for more details).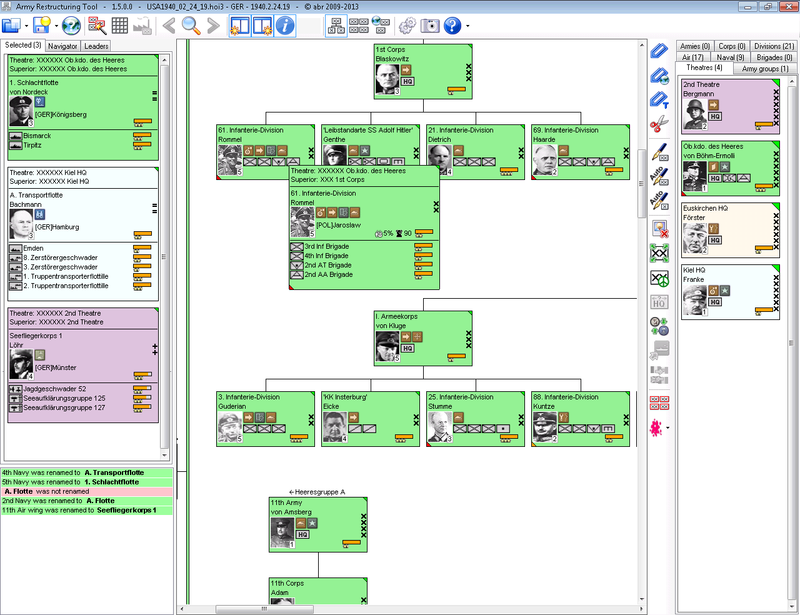 Features
General

Multiple graphical representations
Hierarchical relations between units (OOB mode)
Pseudo-Geographical relatiosn between units (GEO mode)
Units sorted into groups by different criteria (Bulk mode)
Multiple levels of unit detail available
Highly versatile unit selection tools

OOB restructuring

Attachment/detachment to/from HQs
Add new HQs/disband HQs
Transfer elements between units
Optimize softness and combined arms bonus

Leader management

Advanced leader list

Sort by name, rank, skill, traits or assignment
Filter by traits (present or missing), rank and (un-)assigned to an unit

Assign/remove and promote/demote leaders
Automatic rank adjustment on leader assignment available

Unit renaming

Rename any unit or element
Batch mode
Semi-automatic renaming using placeholders
Fully automatic renaming based on filter conditions and templates(!)

Other

Rebasing of land and CAG based air groups as well as fleets
Expeditionary unit management
Division Factory for combining massive amounts of brigades into standardized divisions.
Deployment of units and elements directly from the build queue
Toggle AI on/off and set its stance
Portable version available
... and many more.
You can find screenshots on the media page. For help figuring out how to use the program, there is a manual available online. If you would like to show your appreciation and support the development of the Army Restructuring Tool, please have a look here.
Requirements
NET Framework 3.5 SP1
Windows XP, Windows Vista or Windows 7
Hearts of Iron 3 (any version)
Recommended
Desktop resolution of at least 1200 x 800 pixels
Development history, compatibility and current state
| | | | | |
| --- | --- | --- | --- | --- |
| Version | Type | Compatibility | Activity | Developer Support |
| 1.0.x.x | Stable | Up to SF | Discontinued | No |
| 1.1.x.x | Beta | Up to FTM | Discontinued | No |
| 1.2.x.x | Stable | Up to FTM | Discontinued | No |
| 1.3.x.x | Beta | Up to TFH | Discontinued | No |
| 1.4.x.x | Stable | Up to TFH | Legacy version | Limited 1 2 |
| 1.5.x.x | Beta | Up to TFH | Discontinued | No |
| 1.6.x.x | Stable | Up to TFH | Maintenance | Yes 1 |
1 I do not have any installations of HoI3 Vanilla or Semper Fi anymore. As a consequence, while newer releases of ART may still work with these older versions of the game, I am no longer able to verify if they do.
2 The last release from the 1.4 branch is only provided as a convenience for users that do not want to switch over to the new filter syntax introduced in 1.6 yet. While I'll continue to answer any questions and help with any issues related specifically to 1.4, there will be no code changes to 1.4 anymore.
Mod support
Starting from version 1.1.0.0, ART should work with (almost) any mod out there. If it does not, please report the issue and I'll see what I can do.
Contact Info
Please see ART - Bug Reports/Feedback for contact details.